When talking about the prime time for pike fishing – which is from fall to spring – we need to consider the weather and how it's going to affect us.
Choosing the right outfits when pike fishing during spring and fall is very important, so we don't get a cold while spending hours outside with possible heavy winds and rain. 
Seeing, that rain can hold some fishing enthusiasts back from going out, let's talk about spring and fall fishing outfits that protect you from the rain and keep you warm in heavy winds for long periods of time.
Jackets
Choosing a reliable jacket may be one of the most important parts of your fishing outfit. It can protect you from the harsh weathers during spring and fall and offer lots of storage options for your other gear – such as a knife.
It is very important to get a quality fabric jacket to last you a long time. The jacket should be made using multiple-layer, durable and breathable fabrics.
Researching for great fabrics for fishing, I have come across GORE-TEX. This is a 100% waterproof breathable fabric, used in many outdoor activities – like fishing, kayaking, hiking. The comfort of a long-lasting, breathable, and waterproof jacket is well worth the extra cost.
Here are some great Gore-Tex fabric jackets you can buy online:
1. Marmot Minimalist Rain Jacket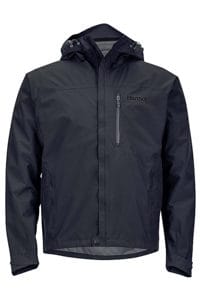 Lightweight men's rain jacket is perfect for fall fishing where harsh weather are your top concerns. The GORE-TEX with PACLITE technology provides optimal waterproofing, breathability, and packability. Also, the taped seams ensure true weatherproofing. 
If you choose this jacket, keep in mind that it's a rain jacket, so there's no insulation – when the weather is colder, you need a fleece sweater underneath. I feel that this makes it more versatile.
You can find the current price on Amazon.
2. Sitka Thunderhead Jacket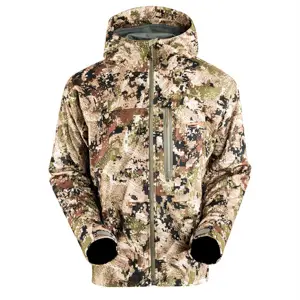 The Stika Thunderhead is a heavy-duty tank of a jacket. The 100% waterproof and breathable GORE-TEX 3L laminate provides 100% waterproof protection sandwiched between a silent and hydrophobic brushed knit face and interior.
"I wore this with the thunderhead pants on a 5-day elk hunt while backpacking in the cascade mountains in Washington. Had sun, heavy rain and snow and no leaks. My buddy had Cabelas brand gear and he was wet and miserable. Good quality gear hands down." – Jesse
The SITKA Thunderhead jacket is available on Amazon.
Pants
Finding the best suitable fishing pants for spring and fall season (and possibly for winter) can get exhausting due to the sheer amount of possible solutions out there. To make the best decision, you need to know, what to look for.
Pike fishing is a lot about fishing in cold and harsh conditions – whether it's in the spring or in the fall.  The chance to run into rain and heavy winds while fishing is almost inevitable in those seasons.
As with jackets, Gore-Tex fabric pants offer top of the line protection against both water and wind. Also, they and are very breathable, making them comfortable to wear throughout your fishing session.
Here are some great Gore-Tex fabric pants you can buy online:
1. Sitka Thunderhead Pants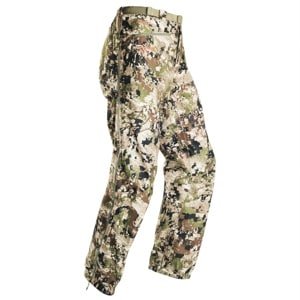 Like with the Thunderhead Jacket, the pants are also one of the best outdoors gore-tex clothing on the market. These pants are made to keep you warm and dry even in the most brutal rains and winds.
Hunters often use Sitka gear on multiple-day hunting trips because of the great quality of the pants.
The SITKA Thunderhead Pants are available on Amazon.
2. Sitka Timberline Pants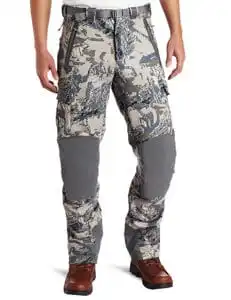 If we're talking about the best pants on the market, it's no surprise, that Sitka has one of the best gore-tex products out there.
If you are looking for great spring and fall fishing pants, which are reliable in the rain and wind, and also last for a long time, you can't go wrong with the Timberline pants.
The reason why I like them a lot is for the removable thermo-molded knee pads. This allows you to kneel down when unhooking a big pike or changing out your fishing equipment.
Go check the price and reviews for SITKA Timberline pants on Amazon.
Boots
With all the rain, mud and cold weather appearing in the fall and still lasting in the spring – you might want to invest in great boots to keep your feet warm and dry for a long time period.
While fishing – whether from a boat on from the bank – you often need to stay still, which means your feet are one of the first body parts to feel cold. And when your feet are cold, you're done for the day.
That's why you have to invest in boots that help to keep your feet dry and warm. Here are some great options:
1. Kamik Hunter Boots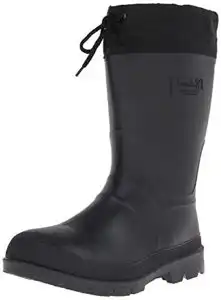 The outer shell of these boots is made entirely from rubber, which makes them 100% waterproof. That's great if you're wandering on river banks or letting your boat in the water.
he Kamik Hunter Boots are knee-high have a -40 degrees temperature rating – so you can wear them quite comfortably even in the winter. The boots feature removable 8mm thermal-guard liner and also an adjustable snow collar.
Look for the budget-friendly Kamik Hunter Boots on Amazon.
2. Danner Pronghorn 8" Hunting Boot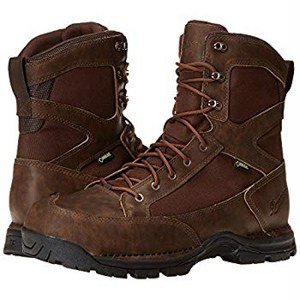 If you're looking for comfortable boots with minimal wear-in time, then the Pronghorns are the way to go.
As you probably can already tell, Gore-tex fabrics are my favorite when it comes to waterproof and breathable outfits. These boots have 100% waterproof linings and have a rugged hardware for secure fit and long lasting performance.
The Pronghorns are extremely comfortable, waterproof and keep your feet dry during your outing. That's what you need when fishing during spring and fall.
You can check for the latest price and reviews on Amazon.
Thermal underwear
Now that we have gone over some great options for spring and fall fishing outfits to stay dry and warm, let's talk about thermal underwear.
To keep yourself warm for longer periods of time during spring and fall, it's important to think about layering.
You might have great outer layers, but if your inner layer doesn't let your body breathe, you're going to sweat and thus get cold regardless. This is where thermal underwear comes into play.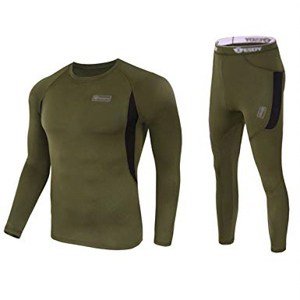 There is almost an infinite choice of thermal underwear out there and probably 80% of them work just fine.
A great choice of thermal underwear would be Uniquebella's Thermal Underwear Set, which you can get from Amazon. These have a breathable and moisture-wicking fabric, which is perfect to keep sweat away and dry fast.
Gloves
If you're not used to wearing fishing gloves in the summer, these really come in handy in the spring and fall.
First off, why should you wear fishing gloves in the summer? I will give you two reasons why.
They protect you from hurting yourself while dealing with the energized fish you just caught – you can read all about pike teeth in my other post.
The second reason is, that fishing gloves protect you from the elements and environment. I can't tell, how many times I have hurt my hands while fishing.
During spring and fall, gloves obviously have an additional role to play. They can help keep your hands warm and dry. Cold and wet hands aren't half as bad as cold and wet feet, but it's still uncomfortable when the hands are red and stiff from the cold.
Which are the best fishing gloves?
Which gloves you end up choosing, is your personal preference. I recommend finding gloves that are somewhat waterproof.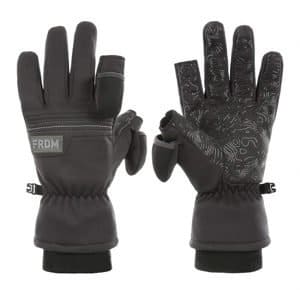 For example, these Cold Weather Fishing Gloves from FRDM offer a three-layer breathable water and windproof softshell that repels water and snow. And they are very budget friendly, giving that some of the top-tear gloves cost around a few hundred.
Having flip back thumb & index finger caps help you change lures and cast much easily.
Face Shields & Masks
Whether you call them to face masks, shields or guards – they all serve pretty much the same purpose, to protect your face.
In the summer, face shields protect you from the brutal sunburns and UV rays.
In the spring and fall, face masks complete your outfit. Now, there isn't any reason for you to not go pike fishing.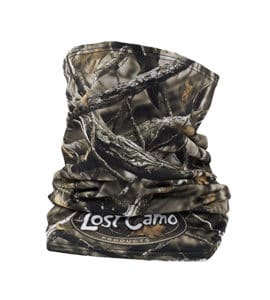 When choosing the best face mask for spring and fall fishing, try to keep in mind the waterproof aspect. They might not be 100% waterproof, but a moisture wicking face shield like the Double Layer Neck Gaiter from Fishmasks is just fine.
For me, the face masks are definitely a better solution than a scarf.
Hand Warmers
I'll give you one more, as a bonus. Hand and foot warmers are truly a lifesaver in so many situations.
Earlier I talked how the fishing gloves you choose, should at least be waterproof. The reason why I didn't talk about them keeping your hands warm is that they often don't – no matter what.
It's because your hands still get wet and they still get pretty cold after a while.
This is why the hand warmers are such a perfect solution for spring and fall fishing trips and a great addition to this post.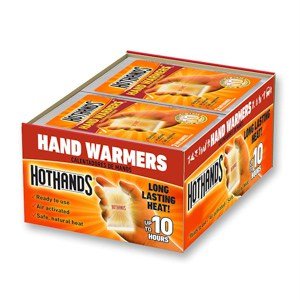 The hand warmers can keep your hands or feet warm for up to 10 hours, and thus let you fish for much longer without being cold.
You can buy the HotHands Hand Warmers from Amazon. I recommend buying a bunch, as these really come in handy regardless of what you're doing outside – from fall to spring.
If you find this guide for spring and fall fishing outfits helpful, please share it with others.