We all have our favorite local fishing spots which we know like the palm of our hands. Still, at times they get a bit old and a change of scenery can make a huge difference. Finding great fishing spots in your local area is like a treasure hunt. When you find one, it gets you all excited. But what if you want to take a longer road trip and bring your fishing gear along? Or if you plan to go on a fishing trip abroad, where you need to travel by plane? 
Knowing how to travel with fishing gear is key to a great start of your fishing trip. To get on a plane with the fishing gear you need to check whether the airlines allow packing your gear as carry-on or you have to check them in. To keep your gear safe and working it's also necessary to protect them from any damage they might take in the car or plane. After all, it's not a pleasant sight when you find your gear all broken by the time you get to the destination.
Let's get into what precautions to take for a safe road trip, or a no-hassle flight with your fishing gear – whether on national or international flights. Here are 7 essential tips for traveling with fishing gear.
Tip #1. Check With the Airlines
This may seem a bit redundant but if you plan on flying to your set destination in a plane, the easiest way to know for sure, how they look at your gear, is to call them ahead of time.
Some airlines allow fishing gear such as 4-piece travel rods and high-value lures on board as a carry-on. In this case, you can be quite sure that nothing is going to happen to your gear on the flight. Using a hard-case carry-on will increase those chances drastically,  though.
But without asking ahead of time there's a good chance that the airlines won't be as forthcoming and you'll have to check your rods, lures and other gear in. But dealing with such hassle in a busy airport, who needs that. Checking your gear in usually isn't a problem from the airlines perspective, but you should be worried about their safety. The problem is mostly with the rods, as they are the longest and most fragile of your gear.
Tip #2. Fishing Rod Rack for Cars
When preparing to go on fishing trips by car you have probably come across problems of fitting the fishing rods into your car. The length of the rods is usually the reason you have to put them in awkward positions. This may lead to accidents.
On one hand, you can leave the rod extended and try to fit them length-wise into your car, so that the tips are between the driver and passenger seat. I don't know about you, but for me, this calls hazard out loud.
One wrong move and you can break the tip of your rod. On the other hand, when trying to fit the rods diagonally into your trunk, there's a chance the other gear you have with you may fall and break your rod or reel (spinning reels tend to be more fragile than baitcasters).
I have had bad luck with the second option when during a car ride, my rod tip was totally smashed by a car cooler falling on it. You can imagine my disappointment when I got to the location.
I did some research to find the best and most cost-efficient way to safely transport rods in a car. There are some great options on the market for roof racks and indoor ceiling hangers. You can check the price for a 7-rod overhead rack on Amazon here. However, I also recommend you to look at some DIY car fishing rod rack videos on YouTube if you're looking for a budget alternative.
Tip #3. 3-Piece Rods vs Telescope Rods
If you plan to pack a lot with you or to fly to your destination there are some alternatives you might want to consider when it comes to fishing rods. Sometimes it's just not possible to take your regular rods and you need something more compact. So what are the possibilities?
Well, there are two main types of rods people use for traveling. I have gathered thoughts and experiences with both and turned it into a simple pros&cons table.
3-Piece Rods

Telescope Rods

PROS

CONS
PROS

CONS

Light-Weight
More Expensive
Cheaper
Heavier
Stronger Build
Three Pieces
In One Piece
Can Break More Easily
Better Sensitivity
Joint May Loosen in Time
Worse Sensitivity
Although multipiece rods may turn out to be a bit more expensive, they still outperform the telescope rods and do give you a better fishing experience in my opinion. Having a lighter rod with more sensitivity is worth investing a little more into. The #1 bestselling 3-piece spinning rod on Amazon is this. But, if you do need a "quick-release" compact rod, telescopes do the trick just fine.
Tip #4. Hard Case Fishing Rod Protector
Another great way of protecting your fishing rods is using hard case protector tubes or cases. These are perfect if you are planning on a longer trip and have a lot of luggage with you. This way, you can make sure, that you won't break the tips or guides on your rod. When the reels don't fit the protecting tubes, you can always take them off while on the way and put them in a protecting bag.
Also, in case you are traveling by plane and need to check your fishing rods in, there's a good chance you also need a strong and shockproof protector case for your rods. I'm sure you have seen or heard, that luggage isn't usually taken much care of in the airport, think of what might happen to your gear. It's not worth losing your gear – invest in a strong rod protector. The cost of these is usually between $30-100.
Tip #5. Fishing Gear Rentals
Sometimes it's not possible to bring your fishing gear with you on a trip. Whether you don't have room to pack your gear or it's not reasonable to bring it with you. But what if there is a great fishing spot in your destination and you would like to try it out for a few hours?
Well, you should check before the trip if there's a fishing gear rental in the location you're traveling to. These rentals are often located a great well-known fishing spot and usually offer decent fishing gear for rent. You might be able to score from a spinning reel up to a fishing boat.
It's a good idea to look around and Google the place you're about to visit and call ahead so you know what to expect. This way you can ask for prices and compare to the costs you might have when traveling with the gear.
Tip #6. Equipment Insurance
Whether you are going on a small boat trip in your local fishing spots of going on a fishing trip further away, it's always good to remember fishing insurance. You never know what might happen.
Fishing equipment can be a pain in the butt to ensure in some standard insurance companies. The problem is, insurance companies don't usually know how to evaluate your equipment. And that's never a good thing when you have lost might lose all your gear in a single bizarre accident – e.g. your fishing boat or kayak turns over (it might be on rare occasions, but it happens).
This is why you should seek for insurance companies who offer insurance for outdoor activity equipment. These insurance companies often know how to value your gear much higher as they are specialized to it. You can find many different fishing gear insurance companies by searching from Google – depending on your location and destination the companies might vary.
For example, SportsCover Direct offer a great package deal with Sports Travel Insurance. Not only does it include standard travel insurance benefits such as delayed baggage, missed flights and cancellation cover but also protects you from injuries sustained whilst angling. With emergency medical expenses and repatriation cover up to the value of £10m, you can start fishing safely in the knowledge that you are fully covered.
Tip #7. Obtain License Before the Fishing Trip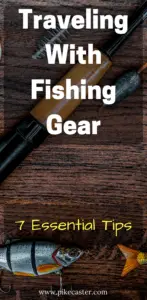 Last but not least, if you know already that you are going to be fishing in a foreign location and know how many days you are going to stay there, it's a good idea to do some research on the local fishing license policy.
As the fines for fishing without a permit are staggeringly high, buying a license before going on the actual trip is a very smart idea. That way you can focus on other things, like getting your equipment ready, and be sure that you won't forget the permit. Just be sure to take the license and ID with you as you go fishing.
Like with the last tip, licenses are usually obtainable from the internet, so a 2-minute search for the local fishing license can go a long way. It's always good to respect the local rules whether you are on a trip or in your local fishing spots.